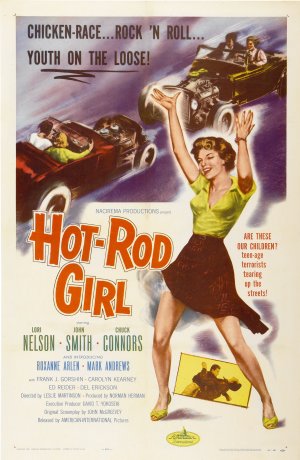 In episode #6 of "The Atomic Bombshell," Mynx Devlin becomes the first actor to break the blacklist when she teams up with Producer Herbert W. Zoozman to make 18 movies in 18 months—9 double features pitched at drive-in movie theaters. This moment in film history echoes the remarkable rise of American-International Pictures. AIP was founded in the 1950s to exploit a new audience—teenagers—who were discovering the pleasures of sex, drugs and rock and roll. AIP President Sam Arkoff invented a new formula for making and marketing movies. He made 'em quick, made 'em cheap, aimed 'em at teenagers and released 'em as double features to drive-ins.
The Arkoff Formula
Arkoff's (and Zoozman's) formula for making a successful movie was as follows:
A-ction (hot rods, fist fights, fighting giant mutant insects)
R-evolution (smoking pot, rock and roll)
K-illing (guns, hot rods, incinerating giant mutant insects)
O-ratory (actors spouting inane dialogue)
F-antasy (dreaming of sex)
F-ornication (having sex)
Instead of starting with a script, Arkoff used focus groups (of 19-year-old boys). He asked them what they wanted to see. The answers? Sex, drugs, rock and roll, monsters, space ships, sex, hot rods, gunfights, and sex. Then Arkoff would have an artist mock-up a lurid poster, which he'd use to get drive-in owners salivating over the movie. Only then would he spend the dollar-fifty to make the film. And so AIP produced movies like Hot Rod Girl, The Ghost of Dragstrip Hollow, Shake, Rattle and Rock! and I Was a Teenage Werewolf.
Ruined by Success
AIP thrived in the 50s until a host of imitators flooded the market with even cheaper, shoddier product, driving down the price that drive-in movie operators would pay for the double bills. AIP then did three things. They started making their Beach Party movies with Frankie Avalon and Annette Funicello. They started importing Italian "sword and sandal" epics and dubbing them into English. And they started their "Edgar Allan Poe" series of horror movies, usually directed by the prolific Roger Corman and starring Vincent Price.
AIP is notable for one other contribution to world cinema. It gave a string of notables their first toe-hold in the business: Jack Nicholson, Robert Towne, Francis Ford Coppola, Peter Bogdanovich, and Bruce Dern all got their start with AIP. And a generation of boomers has precious memories of going to the drive-in to see The Cool and the Crazy, and maybe even catching a glimpse of the movie through the steamed windshield.